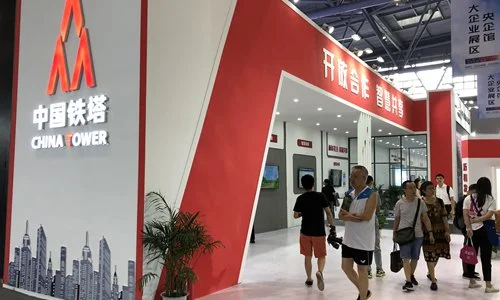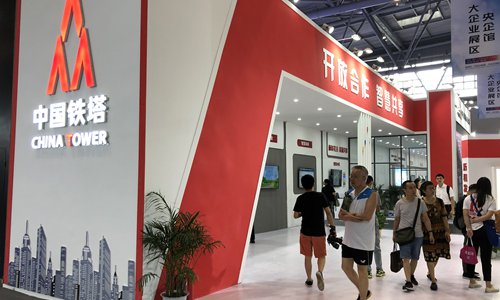 China Tower's exhibition booth at the Smart China Expo in Southwest China's Chongqing Photo: Zhang Hongpei/GT

With international standards for 5G now in place, countries like China that aspire to lead in the technology have been entering a "sprint period" and are heading toward the commercial launch of the upgraded wireless network. As 5G is expected to release huge business opportunities once it's applied in various sectors, key Chinese players in turn are going all out in order to prepare for mass adoption.

Just imagine that one day, a car loaded with medical equipment arrives at your door steps. It then provides a regular body check for you, aided by a doctor in a hospital miles away who is conducting a remote and precise diagnosis in real-time.

That day is not far away.

A quality body check in the comfort of your own home is one of the many healthcare services that will likely witness revolutionary changes in the near future thanks to the introduction of fifth-generation (5G) network technology, which is marked with low latency and high reliability, said Zhang Yong, president of the China Unicom Network Technology Research Institute.

Compared with traditional cellular connection, 5G will operate 100 times faster and quicker than fiber-optic cables, making remote diagnoses or even surgeries possible in the future, Zhang told the Global Times on the sidelines of the Smart China Expo held in Southwest China's Chongqing from Thursday to Saturday.

"The 5G wireless system will be an open network, within which vertical segments will cultivate excellent application opportunities."

Going all out

The new-generation communications technology is often likened by experts to an expressway, based on which, China aims to realize industrial revolution and innovation. As such, the network has created a major battleground where both foreign and domestic players along the industrial chain have been scrambling to establish standard 5G settings and welcome commercial use.

When international standards for the technology were finalized this summer, the sector was launched into a "key sprint period", and China is now fully prepared for the looming 5G era, which industry experts said will be about not only technology, but also cultivating an ecosystem.

In June, 3GPP, the international group that governs cellular standards, announced the finalization of international 5G standards intended for standalone deployments, the world's second 5G standard. The first, which is intended for non-standalone deployments, was finalized in December.

China's three biggest telecom operators - China Mobile, China Unicom and China Telecom - have preferred to build standalone 5G networks, which are separate from 4G networks and can be used in such situations as Internet of Things (IoT) and autonomous driving. In contrast, US and South Korean companies have been building non-standalone 5G networks, which partially rely on the existing 4G network infrastructure and cannot be used in the abovementioned situations.

Wang Zhiqin, vice president of the China Academy of Information and Communications Technology, a government think tank affiliated with the Ministry of Industry and Information Technology, told the forum that China is forecast to finish all test work for standalone 5G networks and that system devices are set to reach the standards for pre-commercial trials by year-end.

"By the end of August, telecommunications enterprises will have finished tests for both indoor and outdoor non-standalone 5G networks," Wang noted.

However, the current timeframe is not sufficient enough for the launch of 5G commercial terminal devices, she said, noting that many chip firms have announced their schedules to roll out 5G-enabled commercial chips in the first half of next year while for 5G-enbaled smartphones, they still need some time to be debugged.

Xu Hao, head of Qualcomm Research China, told the Global Times that the US chipmaker aims to realize the commercial use of 5G in the first half of 2019, especially in smart terminals.

In July, US chipmaker Qualcomm unveiled its new QTM052 millimeter wave and QPM56xx sub-6GHz radio frequency antenna module families, which can work alongside the company's Snapdragon X50 5G modem, to bring super-fast speeds to smartphones. Meanwhile, Chinese technology giant Huawei will roll out its own Kirin 5G chip next year as well as smartphones that support 5G networks by June 2019.

Huge potential

China is leading in the international 5G development race, with usage rates of the network in the country expected to reach 576 million by 2025, representing over 40 percent of global use, according to the latest EY report released in June.

The report said that 5G has a less aggressive rollout strategy compared with that of 4G, forecasting that China's 5G spending will reach 1.5 trillion yuan ($223 billion) between 2019 and 2025.

Faced with such market potential, China has therefore brought forward its release date for the commercial launch of 5G to 2019 and its target for achieving large-scale commercialization to 2020, with different nodes along the 5G industrial chain continuously ramping up their efforts.

In addition to telecom carriers and equipment providers, infrastructure builders and operators, standing at the bottom of the 5G industrial chain, are also contributing to the country's ambition to become a 5G powerhouse.

China Tower, a company that recently got listed in Hong Kong, made the latest blockbuster IPO on August 8, raising $6.9 billion from investors and raising its total value to nearly $28 billion.

As the world's largest developer of mobile phone tower sites, China Tower has been fully preparing for the country's 5G development and application, said Gao Buwen, deputy general manager of China Tower.

As of June 30, China Tower had built 510,000 new sites since its founding in 2015 while its total site number was at 1.9 million, accounting for over 60 percent in terms of tower numbers worldwide, according to a note the company sent to the Global Times on Thursday.

"Stations for 5G are featured with a higher frequency, a smaller coverage radius as well as denser transmitter networking, which means more tower sites are needed," Gao told the Global Times in an exclusive interview during the Smart China Expo.

"But we want to reduce repetitive construction of sites and are currently promoting a [new] development model - mutual transferring from communications towers and social towers," Gao explained. By social towers, he meant everyday public resources such as telegraph poles and bus stops.

The builder of the new tower, in the spirit of sharing space or co-location, would use a business model that serves multiple tenants on one site, thus increasing marginal profit, Gao noted. "Compared with our international peers, we have a larger sharing scale."

Gao believes that as different nodes of China's 5G deployment go all out, the country is set to be on the same level as international standards in the coming fresh communications age, and could even surpass it in some aspects.