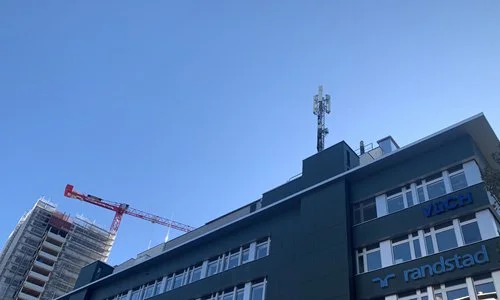 A Huawei 5G base station installed on a rooftop in Zurich. Photo: Chen Qingqing/GT
An MBBF19 attendee at the Messe Zürich exhibition center rides a 5G-powered VR rollercoaster. Photo: Chen Qingqing/GT


5G has now moved from hype to reality in Europe.

Today, if a smartphone user walks along the streets of Zurich, they can easily reach a download speed of about 600 Mbps. Since the beginning of this year, commonly considered to be the year of 5G, the city has become a pioneer in the 5G rollout.

Chinese telecoms giant Huawei and Sunrise, Switzerland's second-largest carrier, launched the first European 5G joint innovation center in Zurich on Monday. Its launch paves the way for the exploration of more 5G applications, particularly after 5G networks have already seen large-scale commercial deployment.

In April, Sunrise began offering a trial 5G service. The next generation of wireless technology has been gearing up beyond the consumer sector, reshaping industries and the way of living in Switzerland.

In downtown Zurich, some 5G base stations have been set up on the rooftops of buildings, permitting coverage within 1 kilometer. Huawei's 5G site solution, Super BladeSite, which enables the deployment of 5G technologies in a very simple way, includes different modules and components such as microwaves and antennas.

"The European market is more adapted to microwaves rather than fiber optical cables to enhance the connectivity of remote villages, and Huawei's simplified 5G microwave solution supports local carriers to establish networks in those areas," an employee of Huawei's office in Zurich told the Global Times.

Europe has become the largest 5G market for Huawei outside of China, as more than half of its 5G contracts thus far have been sourced in the European market.

"For instance, our 5G deployment in partnership with Sunrise has now covered more than 300 cities and towns in Switzerland," Yang Chaobin, Huawei's 5G Product Line president, told the Global Times during a group interview on Wednesday.

Based on Sunrise's C-Band 100MHz bandwidth, Huawei's Massive MIMO, which lays the foundation for super-fast 5G networks, could help reach a maximum user speed of 2Gbps, and its capacity could be 20 to 40 times greater than that of 4G, according to Huawei.

"Even in some remote villages and farmlands which are not accessible for fiber cables, such new antenna could cover 5G networks," Yang said.

The ambitious 5G Action Plan was confirmed by the EU Council back in 2017, aiming to trial a commercial 5G rollout by 2020.

Under the plan, the launch of 5G services in all EU member states will begin by the end of 2020, followed by a rapid build-up to ensure uninterrupted 5G coverage in urban areas and along main transport paths by 2025, according to the European Commission's official website.

European carriers and local businesses have shown eagerness to deploy the technology.

Innovative uses

In rural areas, cutting-edge technologies will inject fresh impetus into traditional farming practices.

As dairy estrus detection helps to increase milk production, some farms have devised solutions to monitor the real-time status of cows. The Swiss agricultural research center Agroscope is now equipped with censors, cameras, dashboards for analysis, cloud services and 5G networks, and has built an Internet of Things environment.

Sensors attached to cows transmit various data, like a cow's temperature, to the dashboard, and farmers will determine whether or not an animal is ready to be milked by analyzing the data, Marco Peter Bucholzki, a senior product manager at Sunrise, told the Global Times.

Most applications are in the countryside, as "we have more possibilities [there] to help households access the internet," he said.

5G-empowered technologies also allow drones to monitor fields and detect whether or not pests or disease are present. The drones feed instructions on the management of fertilizer and water in the fields.

Gearing up

5G arrived faster than industry representatives had expected, as more than 20 countries have begun 5G rollouts, and 136 5G devices have emerged. Different industries are deriving new value from the first round of industrial 5G applications, as it has already provided enhanced mobile broadband, entertainment, manufacturing and more, rotating chairman of Huawei Ken Hu Houkun said at the 10th annual Mobile Broadband Forum held from Tuesday to Wednesday in Zurich.

"We can't say for sure what type of applications we'll see in the future, but right now it's clear that every single industry will benefit from 5G technology," he said.

Since many carriers in Europe have already invested in Huawei's 4G infrastructure, it would be less complex and costly for them to upgrade to 5G using the Chinese company's equipment, Neil Shah, an industry analyst with Counterpoint, told the Global Times.