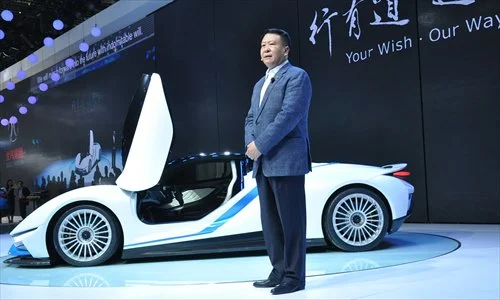 Xu Heyi, the president of BAIC, introduces the company's driverless vehicles during the 2016 Beijing International Automotive Exhibition recently. Photo: Courtesy of BAIC
Chinese automaker Beijing Automotive Industry Corporation (BAIC) has made great progress in networked, eco-friendly and driverless technology development in recent years.

The company recently showcased their latest driverless vehicles during the 2016 Beijing International Automotive Exhibition that closed on May 4.

Designing and developing driverless vehicles have become a growing trend in the auto industry. To this end, BAIC has sought to reposition itself as a smart and innovative manufacturing company and has taken considerable effort to make their vehicles more intelligent, intuitive and safe.

BAIC established a technology research institute in 2015 and has already started developing smart, electric and light vehicles.

BAIC presented four driverless vehicles to the enthused audience at the 2016 Beijing International Automotive Exhibition, who applauded loudly when the vehicles drove back and forth across the stage.

The audience was able to both witness the driverless vehicles in action and experience their innovative technology firsthand by sitting in the vehicles as they drove around a special "experience zone" that was set up by BAIC.

The vehicles showcased their smart, autonomous capabilities: stable and smooth driving, acceleration and deceleration, turning, self-guided U-turns, identifying and avoiding pedestrians and obstacles, and braking.

The BAIC driverless vehicles' high-tech sensors and networked navigational system enable them to react to objects within milliseconds of their being sensed.

Also, the driverless vehicles have been programmed to keep a safe distance between themselves and other vehicles, obstacles and pedestrians to ensure that the whole driving and parking process is safe.

Instead of a steering wheel, the autonomous vehicles are equipped with several digital screens that allow the passenger to see and set the GPS coordinates for its route as well as listen to music or watch a movie as they are driven to their destination.

Each driverless vehicle is fitted with a GPS antenna, a camera, and a radar detector on its roof that rely on technological systems, such as the Beidou Navigation Satellite System, multi-sensor information integration systems, and inertial navigation systems to tackle complicated traffic.

BAIC is very optimistic about their driverless system. Although the driverless vehicles required a very costly and lengthy testing phase, the company promised that the market price for its self-driving vehicles would be competitive when they are launched in the Chinese market in the future.